Future Leaders Aviation Program (FLAP) offers practical and fun-filled aviation and science-based experiments to foster the habit of evaluating and exploring. We believe kids need to be encouraged to think critically and innovatively and have the confidence to explore. The program is designed to equip students with the skills to apply classroom knowledge to real-world problems and prepare them to succeed in a global economy.
STEM-BASED AVIATION EXPERIMENTS


LIVE E-CLASS INSTRUCTED BY PROFESSIONAL COMMERCIAL PILOTS
COLOURFUL COURSE MATERIALS TAILORED FOR FUTURE PILOTS
CHAPTER 1 - HOW DO AIRPLANES FLY
1. WHAT MAKES AIRPLANES FLY?
2. HOW IS LIFT CREATED?
3. HOW TO FLY FURTHER?
4. THE MYSTERIOUS 4 FORCES OF FLIGHT
CHAPTER 2 - LET'S BUILD AN AIRPLANE
1. HANDS AND FEET
2. MUSCULAR SYSTEM
3. NERVOUS SYSTEM
4. DIGESTIVE SYSTEM
AVIATION EXPERIMENTS

(COURSE MATERIALS TO BE DELIVERED TO YOUR HOME ADDRESS)
AIR ENGINE

Engineer an Air Turbine to levitate foam balls
PLANE LAUNCHER

Engineer your plane launcher and launch your own planes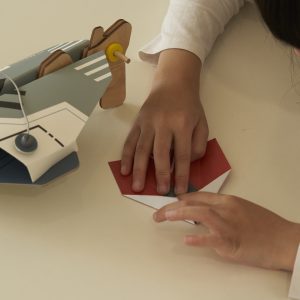 HYDRAULIC ARM

Learn to fill hydraulic piston and build your hydraulic arm


SYNTHESIZER

Build a synthesizer using basic electronic components and combine different electronic sounds to experience the sound of electronic art

COURSE PACKAGE :

FLAP - PHASE ALPHA (Chapter 1 & 2) - HKD 4,800

4 SETS
AVIATION
EXPERIMENT KITS
1 HOUR
FLIGHT SIMULATION
GROUP WORKSHOP
1 MONTH
FREE ACCESS TO
AEROGAMIFIES
Upcoming
CHAPTER 1 :
– FACE-TO-FACE ENGLISH CLASS:
– 23, 30 Jul & 7, 13 Aug 2022 (Every SAT)
– ONLINE ENGLISH CLASS:
– 24, 31 Jul & 7, 14 Aug 2022 (Every SUN)
– 31 Jul & 7, 14, 21 Aug 2022 (Every SUN)
– 7, 14, 21, 28 Aug 2022 (Every SUN)

TIME :
– Class 1: 09:30 – 11:00
– Class 2: 11:30 – 13:00
– Class 3: 14:00 – 15:30
– Class 4: 16:00 – 17:30
CHAPTER 1 ONLY (4 LESSONS)
*NEW FACE-TO-FACE SESSION AVAILABLE NOW
CHAPTER 1  – FACE-TO-FACE ENGLISH CLASS 
CLASS START DATE: 23 Jul 2022 (SAT)
– 23, 30 Jul & 7, 13 Aug 2022 (Every SAT)
HKD 2,700

CHAPTER 1 – ONLINE ENGLISH CLASS
CLASS START DATE: 24 Jul 2022 (SUN)
– 24, 31 Jul & 7, 14 Aug 2022 (Every SUN)
HKD 2,700
CHAPTER 1  – ONLINE ENGLISH CLASS 
CLASS START DATE: 31 Jul 2022 (SUN)
– 31 Jul & 7, 13, 20 Aug 2022 (Every SUN)
HKD 2,700

CHAPTER 1  – ONLINE ENGLISH CLASS
CLASS START DATE:   7 AUG 2022 (SUN)
– 7, 14, 21 & 28 Aug 2022 (Every SUN)
HKD 2,700